We've got a new look! Same great service. Same great team.
Listed as a top Pediatric Dentist in Baltimore Magazine

The Finest Pediatric Dental Care in the Greater Baltimore Area
Cross Keys Dental Associates was one of the first pediatric dental practices in the state of Maryland. Over almost 50 years, we've earned a reputation for being the backbone of the pediatric dentistry community. Here's why: with our proven team of top-notch pediatric dentists comes unparalleled dental service. Plus, we accept most insurance!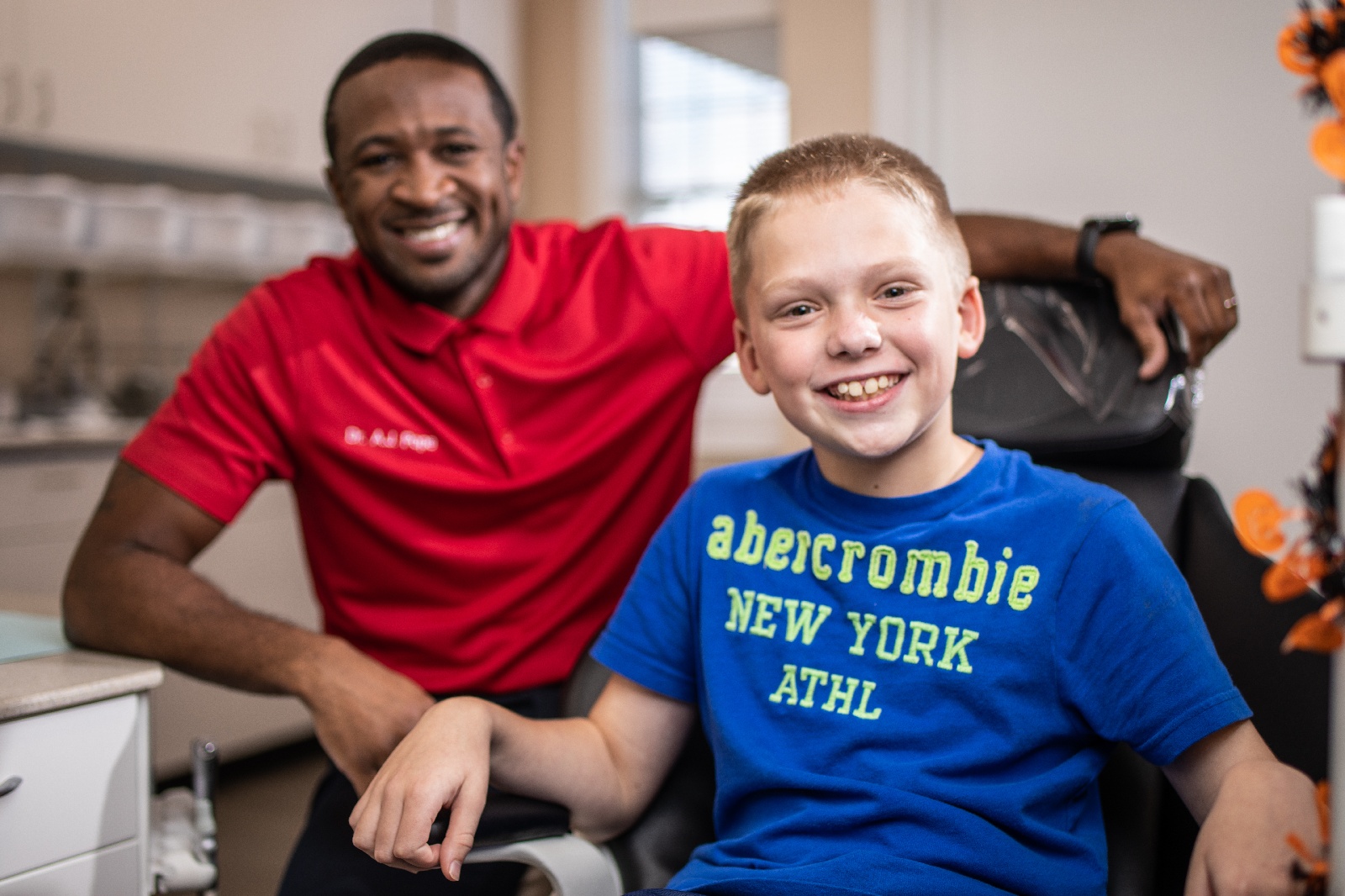 We specialize in caring for your child's dental needs, right from their first tooth. All dental specialists (pediatric dentists, orthodontists, oral surgeons, and others) begin by completing dental school and continue their education with several years of additional, specialized training. During training in the field of pediatric dentistry, your doctor gained extensive knowledge and experience in treating infants, children, and adolescents. Pediatric dentists enjoy working with children and bring to each patient expertise in childhood development and behavior. Because our office is geared toward young visitors, you'll find that our staff, as well as our office design, decorations, and activities all work together to provide an especially friendly and comfortable environment for children.
Does your child require treatment in the hospital? Don't worry, we've got you covered. Our hospital dentistry services are facilitated through a long-established relationship with pediatric anesthesiologist Dr. Aaron Zuckerberg and his staff at the Children's Diagnostic Center at Sinai Hospital. Hospital dentistry treatments are completed under general anesthesia. This type of treatment is often recommended for the following reasons: extensive treatment needs, young age, coping or cooperation difficulties, protecting the developing psyche, complex medical history, or special health care needs. Your child's dental treatment will be provided by the pediatric dentist your child regularly sees at Cross Keys.
Our pediatric dentists and the entire staff of Cross Keys Dental Associates have extensive experience in the treatment and care of special needs patients, both children and adults. Our Friends and compassionate dental team is comfortable taking care of patients with a wide range of special health care needs, including physical, developmental, sensory, behavioral, cognitive or emotional impairments. Health care for individuals with special needs requires specialized knowledge, which our dentists have acquired by additional training. Our dedicated staff is also exceptionally sensitive to the adaptations and accommodative measures needed to provide appropriate care to special needs patients. We offer a wide range of services, ranging from preventive care to treatment in a hospital setting, if needed. At Cross Keys Dental Associates, we strive to be superior dental health care providers, so we can help you help your children have healthy and beautiful smiles.
We are always available when your child's dental health is at risk, even after hours. If you face a dental emergency, give us a call immediately. If you need urgent treatment after hours, you can call our emergency number. We are always here to assist when your child's dental health is at risk. Below are tips on dealing with urgent dental situations. You may want to display this list on your refrigerator or store it near your emergency phone numbers for easy reference.
Whether this is your child's first visit, a special dental need, or you've had an unpleasant experience elsewhere, we've got this. We're here to make going to the dentist like a day at the park. Think good times, new friends, and a whole lotta laughs. And parents, you're welcome to stay with your child during the entire visit. Going to the dentist can be scary for a child. It doesn't have to be. The earlier you introduce your child to the dentist, the more comfortable they'll be. The American Academy of Pediatric Dentistry (AAPD) recommends children start going to the dentist by age 1 or within 6 months of their first tooth. Often, an infant or toddler's first visit is simply a short icebreaker to establish the dentist's office as a safe, friendly place. Taking the time to do this will make subsequent visits stress-free.
MEET YOUR DENTAL SPECIALISTS
Board Certified Oral and
Maxillofacial Surgeon


Dr. Keegan has been a pediatric dentist since 1996. He is Chief of the Department of Oral-Maxillofacial Surgery and Dentistry at Sinai Hospital of Baltimore, as well as Division Chief of Oral-Maxillofacial Surgery.
Board Certified Pediatric Dentist


Dr. Jenkins is a pediatric dentist and a member of the American Academy of Pediatric Dentistry. He originally from Louisiana and he enjoys mentoring, reading, traveling, watching movies and trying new cuisines.
Orthodontist


Dr. Friedman and her husband, David, live in Pikesville, Maryland with their new born baby girl, Emma. She enjoys hiking, gardening, cooking, and spending time with her family.
Orthodontist


Dr. Callahan is an Orthodontic specialist who enjoys cooking, traveling, home décor and most of all spending time with her toddler.
Board Certified Pediatric Dentist


Dr. Casper and his wife, Jane, a public health dental hygienist, have been married for over 35 years and are the proud parents of three grown children. In his spare time, Dr. Casper teaches at the University of Maryland Dental School, Department of Pediatric Dentistry.
Specialist in Pediatric Dentistry


Dr. Charlie was born in Washington, D.C. and his interests include; golf, movies, and spending time with friends and family.
Our orthodontists design individual treatment to be sure your child's teeth are positioned correctly.
"We're proud to have a history of consistent patient satisfaction. Our dentists have been voted Best of Pediatric Dentistry in Baltimore Magazine for the past four years! For more testimonials to the quality of our dental care, see our reviews."
Tiffany H.

"Everyone from the front desk, to our Hygienist, to our Dentist are wonderful. My three year old cried because he didn't want to leave!!!"
Jennifer K.

"My children actually enjoy going to the dentist! During our last visit, I had all three of my kids in and out in 35 minutes, and the care was outstanding. I enthusiastically recommend this practice!"
Kara M.

"Cross Keys Dental is amazing! My daughter loves going here and they do a phenomenal job of making her (and everyone else) feel comfortable and calm. We would go nowhere else!!"
Kimberly R.

"My daughter had to have two teeth extracted by Dr. Ball. The experience was great! I am thankful for kid-friendly offices like this. Neither of my children are afraid to come for their visits."
Hours :

Monday 8:00am to 5:00pm
Tuesday 8:00am to 5:00pm
Wednesday 8:00am to 5:00pm
Thursday 8:00am to 5:00pm
Friday 8:00am to 5:00pm